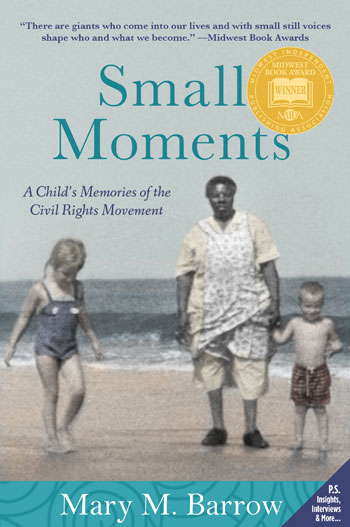 "This is American history, told with care and intelligence. Small Moments is an important documentation of its time … "  Eleanor Dore, Retired, Head, Language & Literature Division, Martin Luther King Memorial Library, Washington, DC
At the dawn of the Civil Rights movement, six-year-old Mary Mills Barrow and her family moved from the mountains of Tennessee to a suburban New Jersey. Forced to grow up in a place so unlike her old home, Mary clung tightly to the hand and heart of their African-American housemaid, Amelia.
At once a stern caretaker and a tender mother-figure, Amelia's constant presence in Mary's life gradually exposed her to the rippling tide of unrest and inequality spreading through the nation, as well as the violent and heartbreaking ramifications of the Tuskegee experiment. It was from Amelia that Mary learned of the despair caused by the murders of Medgar Evers and Emmett Till, of the hope provided by "sitting down," and the power of an "X".
Small Moments: A Child's Memories of the Civil Rights Movement, is a gripping and heartfelt story of how one uneducated and underprivileged woman taught a young girl to see the world not in terms of color, but in terms of kindness, equality, and love.